description
The Spartan GoLive is our most advanced cellular scouting camera. Our innovative tech allows you to live stream at the touch of a button, capture images and videos on demand, and take advantage of simultaneous capture and sending to receive your pictures and videos faster than ever. It also features anti-theft GPS, real-time updates, and easy solar connections.  Compatible with the Spartan Camera Management App: Transmit photos, videos, and remotely update your settings with the touch of a button. Whether you're monitoring land, cabins, or animals, the Spartan GoLive will keep you connected with industry-leading technology. 
Available in Spartan Areus, Realtree® EDGE, or Mossy Oak® Break-up Country camo. 

Take advantage of our 2-year warranty when you register your camera.
specifications
Dimensions:
9.7 x 7.0 x 4.2
display screen:
2.0" IPS LCD
PIR detection range:
up to 80 Ft(24 meters)
image resolution sd card:
4MP - |8MP
image transmission:
Thumbnails-640 * 480 (Normal) or 1280 * 960 (Large)|HD Size Options (upon request): 2688 x 1520 (4MP) 3840 x 2160 (8MP)
mounting:
Tripod mounting sockets (bottom and rear), mounting strap, security cable lock
night illumination:
Blackout
operation humidity:
5% - 90%
photo burst:
1|2|3|Sends all photos in photo burst
pir sensitivity options:
High|Normal|Low|Off
Power Supply:
Internal|Built-in Lithium-ion cell / External: 12 x AA (1.2v-1.5v/ea.) / 12V DC / 12V Lead acid
sd card capacity:
Standard 128Gb
send video:
Yes|Requires Premium
temperature:
-4 to 140 Fahrenheit (-20 to 60 Celsius)
time lapse interval:
30s - 24h
trigger:
Motion (PIR)|Timer (Time Lapse)|Scheduled Events (Premium Required)
trigger interval:
0s - 60 min
video resolution:
WVGA (800*480), 720p (1280*720), 1080p (1920*1080)
Video frame aspect:
30 fps
Video aspect ration:
16:9
Video transmission length:
5 sec, 10 sec, 15 sec, 20 sec, 25 sec, 30 sec
video sound recording:
Available
Gallery
Customer Reviews
Write a Review
Ask a Question
Filter Reviews:
camera
pictures
Spartan
videos
battery
quality
issue
others
GoLive
signal
03/03/2023
John h.

United States
Best camera there is
Best camera there is
03/01/2023
John S.

United States
Awesome camera
I have the Go Live with solar panel, super easy to setup including the data plan. I am using it to keep an eye on my campers after one of them got broken into. Works great.
02/28/2023
Greg W.

United States
Tenth Spartan GoLive 4G/LTE
I've tried many different types of trail cameras over the years but my Spartan Cameras have been the most reliable and durable cameras by far. I just purchased my tenth Spartan Camera and I think I still need a few more!
02/14/2023
James H.

United States
Personal & Customer comments
My personal opinion & from some customers. Golive is far best camera.30 second video allowance and live feature. Maybe future cameras could have a larger hood over the lense to keep rain off. Most question I've been asked and I've asked before could it be possible for a white flash version in the golive.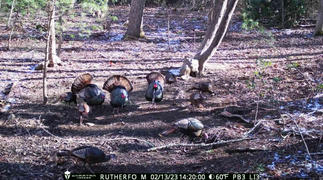 02/06/2023
Dan L.

United States
Recent purchase
Cameras are great. Love the features. One issue is that they take pictures randomly without animal movement. This seems to start and stop for no reason. Obviously has a serious impact on data plan.
02/06/2023
Spartan Camera
Hello Dan, We're glad you're satisfied with your purchase! Regarding the random photos with no animal activity, if you have the camera in an area where wind is blowing tall grasses, trees, or other shrubberies, the camera will detect that motion. You can fix this by setting your camera's sensitivity to normal or low. If you have any other questions or concerns, don't hesitate to contact our support team by calling 770-582-0004 or emailing support@spartancamera.com.